Cubbies. Storage bins. Drawers. Shelves.  Anything that can help you organize your "stuff" – I'm in. Throw in a label and I'm in heaven. 
Enter…the card catalog. 
How can no one remember these? Once a staple furniture piece in all libraries, card catalogs were made up of drawers upon drawers filled with paper cards holding information about books and where to find them in the book stacks.
Now—thanks to the world wide web—cards have been replaced with computer files, and this old-fashioned technology is a thing of the past.
Not for me. I wanted one, I needed one. And after an impromptu Anthropologie trip where I stumbled upon a nook of home décor items, I saw one. It was probably a good thing that this particular one was a display piece and not for sale. I can't imagine the price tag for that beauty. But, that is when my slight obsession began.
It was completely on a whim that I decided to stop by The Green Door one weekday afternoon. Having been a long-time friend of Maureen's and seeing the first shop she and Kate had started, I could hardly wait to see their new digs. I walked in and after letting the shock of seeing this eclectic, Anthropologie-esque shop sink in, that's when I saw it….and it was love at first sight.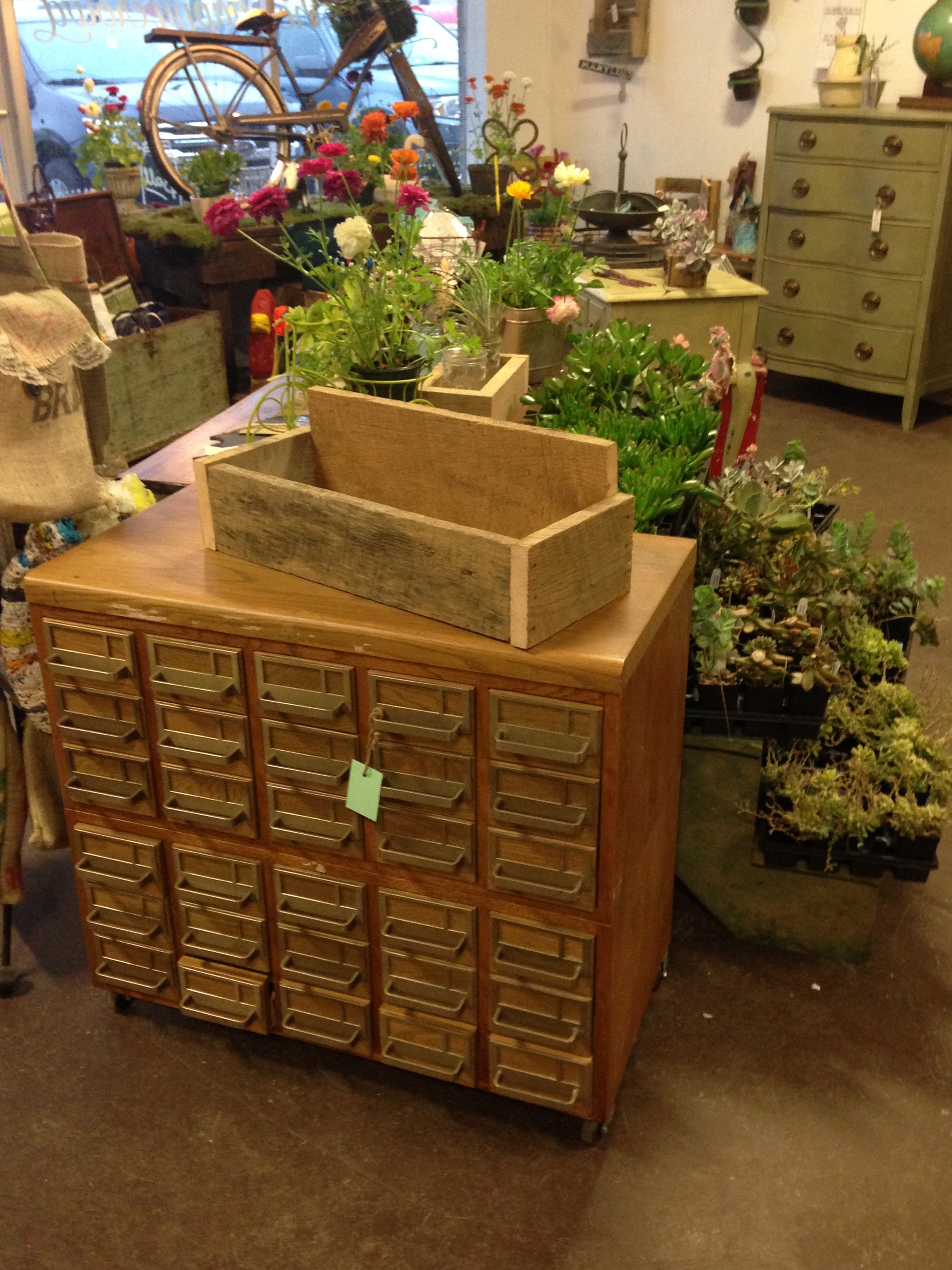 I bought my very own card catalog on the spot that day, before their shop had even officially re-opened. The color of the wood wasn't exactly my style, but I just knew that with a fresh coat of paint, it would surely be the one-of-a-kind punch needed to be a statement piece in my next home. And it was.
I'll take this moment to give a huge, Huge, HUGE thank you to my mom and one of her good friends, Terri, who as a birthday gift to me, revamped the card catalog into the mini storage unit of my dreams.
 THE PROCESS
Having moved it three times (it's a heavy piece of furniture) even without the drawers, a new set of wheels was needed to make it sturdier.
Then, they wiped down the whole cabinet down to get rid of any dust and removed the hardware from all 30 drawers; taping over some areas to protect when painting.
After I finally decided on a paint color (Annie Sloan Chalk Paint in Graphite), they got started with the first coat. Having repainted her kitchen cabinets using Annie Sloan paint, Terri had become an expert at the brush and feather technique. They started with the base and used the same process for the faces and sides of each drawer.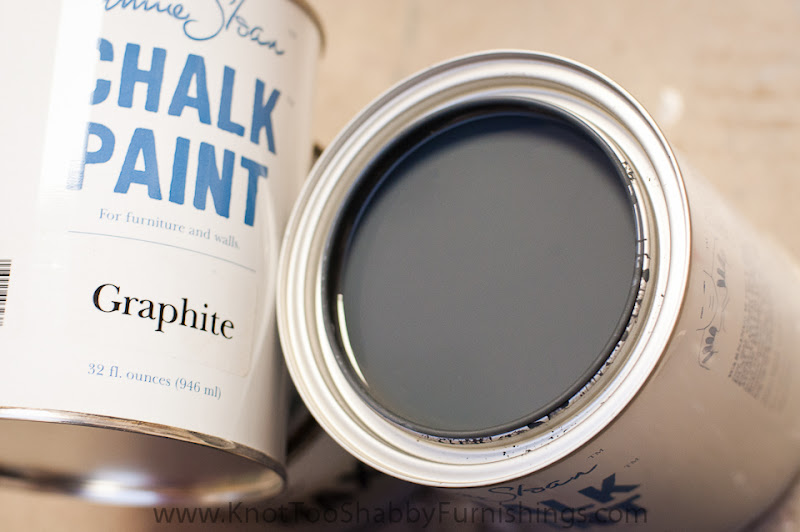 Because I was going for a richer look, after letting it dry for several days, they reapplied a second coat then topped it off with the clear white wax and slowly worked the wax into the surface. They buffed and rubbed the catalog to remove any lint, reattached the hardware, and then it was complete.
Had I not been moving into a new apartment at the time, I would have been all over this DIY opportunity. But honestly, I could not have been able to create a better "before and after" than their finished product below. I am so lucky that they are so crafty!
I'm not sure it's possible to fall in love with a piece of furniture. But if it is, then I have. From wine to seasonal tableware, placemats to mugs, I'm slowly filling the drawers….labeling will come later!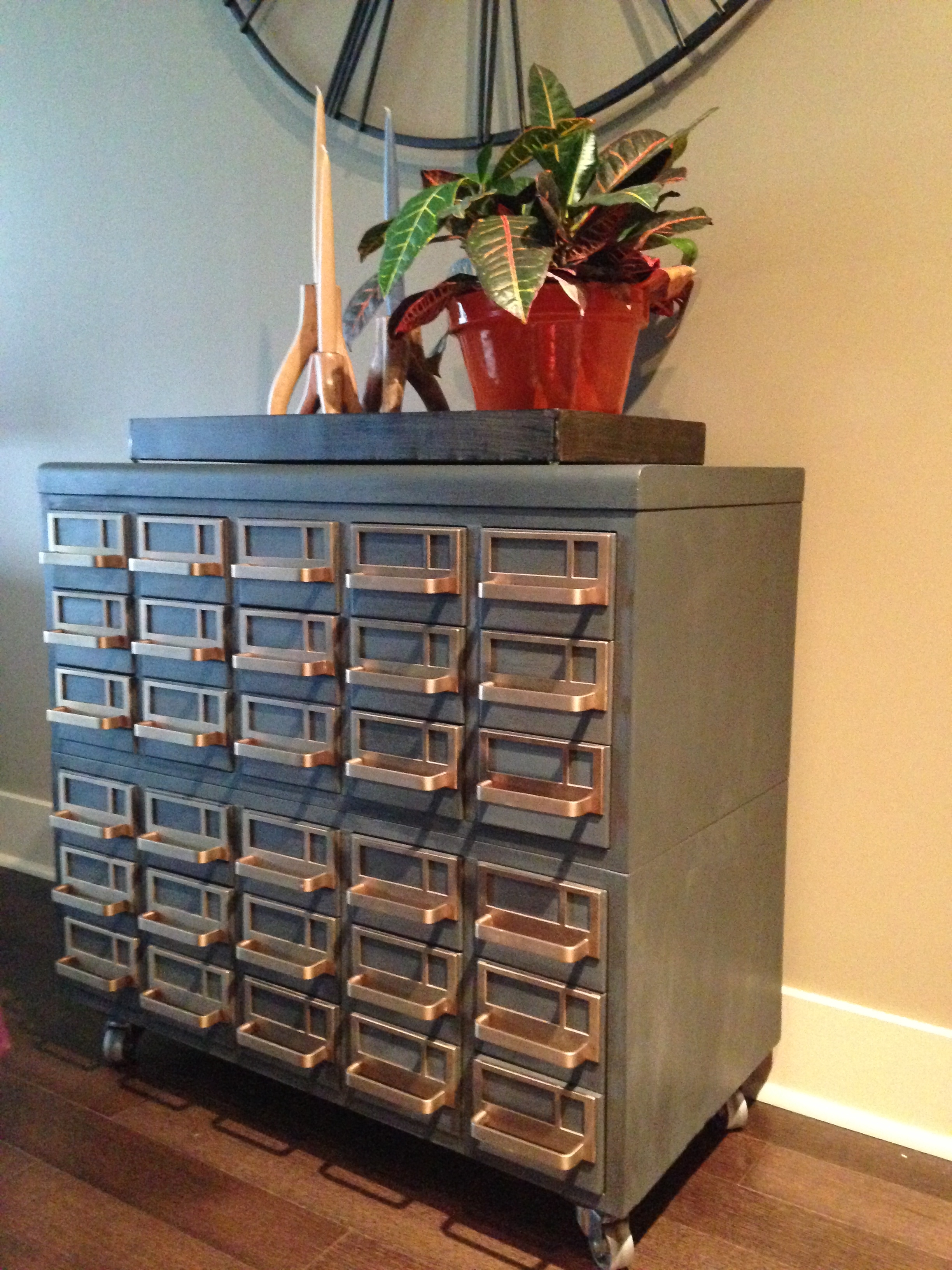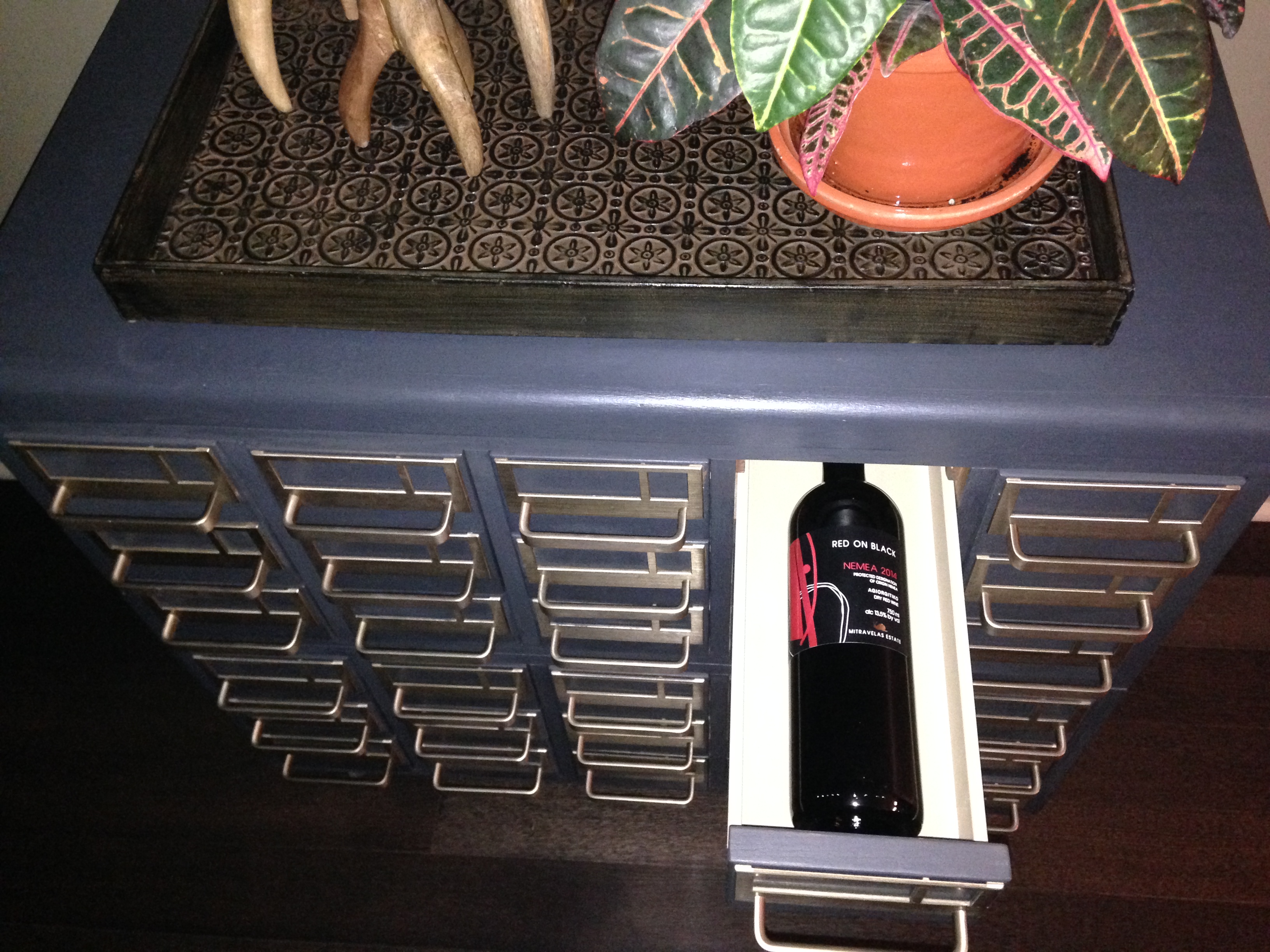 All in all, if you take anything away from this post, shop The Green Door, try Annie Sloan Chalk Paint (take a workshop if you're a newbie), and be appreciative of all of the crafty women in your life. They just might volunteer to help you with a DIY one day!
Sincerely,
One happy customer.